Compliance support
Supports the customer IT environment to comply with regulations inside and outside of Korea,
for continued growth of customer business in the cloud environment.
NAVER Cloud Platform provides a safe medical cloud service construction environment and solution by complying with the Medical Service Act and Personal Information Protection Act, and supports the external storage authentication area required for the acquisition of the EMR certification for the customer service built on the cloud.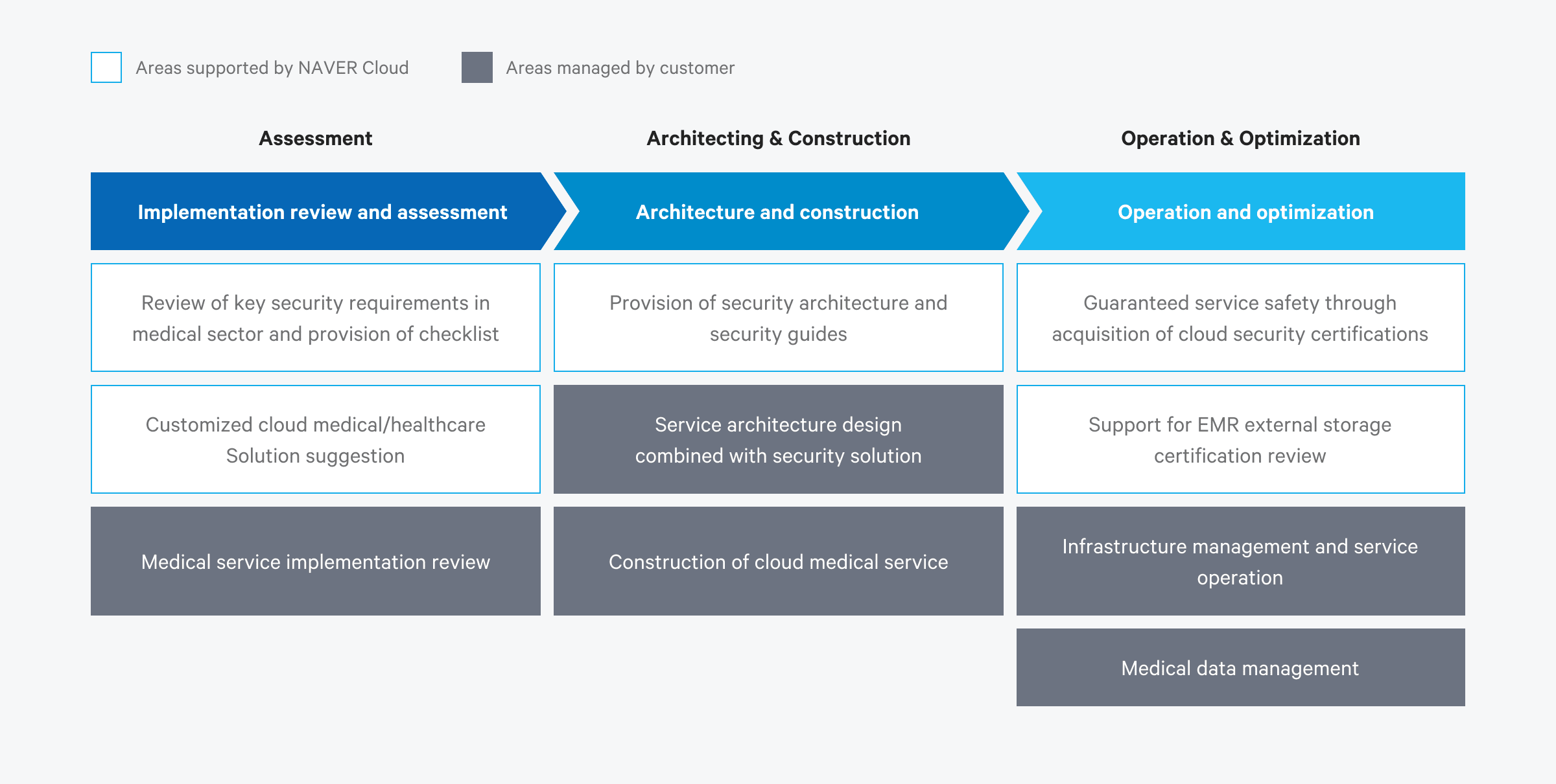 Review of key security requirements in medical sector and provision of checklist
By reviewing key medical compliance requirements such as the Medical Service Act and the Personal Information Protection Act, NAVER Cloud Platform meets all detailed criteria for facilities and equipment, and provides an infrastructure environment required for implementation of a safe medical cloud service. In addition, it provides a checklist that includes the areas supported by NAVER Cloud Platform and available security services to support safe cloud service implementation and efficient security review of customers.

Suggestion of customized cloud medical/healthcare
NAVER Cloud Platform provides various solutions related to medical/healthcare for customers to safely and conveniently build medical IT services. Professional personnel specialized in the medical sector provide on-demand support to suggest customized medical service to customers from various medical services.
Provision of security architecture and security guides
To help customers comply with compliance requirements when designing the medical service architecture, reference security architecture info and guides for the use of medical cloud are provided. To easily meet key security requirements, NAVER Cloud Platform's security services suitable for each area are suggested, and relevant security guides for designing a safe infrastructure that can respond to various security threats are provided.
Guaranteed service safety through acquisition of cloud security certifications
Having acquired cloud security certifications inside and outside of Korea including "ISMS-P, CSA STAR, and ISO 27799", NAVER Cloud Platform guarantees the safety and reliability of infrastructure necessary for medical service operation. It provides an environment that can safely store and manage sensitive medical data with proven safety for its cloud services, data centers, etc.
Support for EMR external storage certification review
In accordance with the revision of the certification standards for "external storage and cloud computing services (services using internet data center outside of the medical institution)" of the electronic medical record system, general medical institutions that are not national or public institutions can acquire EMR certifications.
NAVER Cloud Platform supports the EMR certification review implemented through NAVER Cloud Platform with a response team composed of professional personnel.
Customers can use the security products of NAVER Cloud Platform and build a system that can safely store and manage medical data to comply with technical security standards for the electronic medical record system.
For external storage items in the security certification standards, an exemption for some areas is possible since NAVER Cloud Platform has security certifications such as ISMS-P, ISO 27017, and ISO 27018.
Also, NAVER Cloud Platform provides additional necessary proof data such as CC certification of information protection products used by customers, according to the EMR checklist from the EMR facility equipment standard notice.