Voice-type AI Service
Chatbot solution using AI service of Naver cloud platform such as CLOVA, papago
About Architecture
CLOVA Chatbot refers to an AI-based communication software that provides appropriate answers or various relevant information for users' questions or requests in a messenger-based environment. As it has evolved from initially providing preset replies to simple keywords into analyzing the user's questions to provide replies automatically, there are a growing number of cases to innovate the services using chatbot. NAVER CLOUD PLATFORM provides different kinds of AI services to add intelligence to various kinds of work and services. Since the CLOVA Chatbot service is able to create dialogue models easily and can be linked with different types of channels, you can develop the services that suit the customer's purpose. If you connect with the latest AI services based on Naver's abundant data of CLOVA and papago, etc., it is possible to create a chatbot solution that can be applied to various services even without adopting a separate solution.
---
Architecture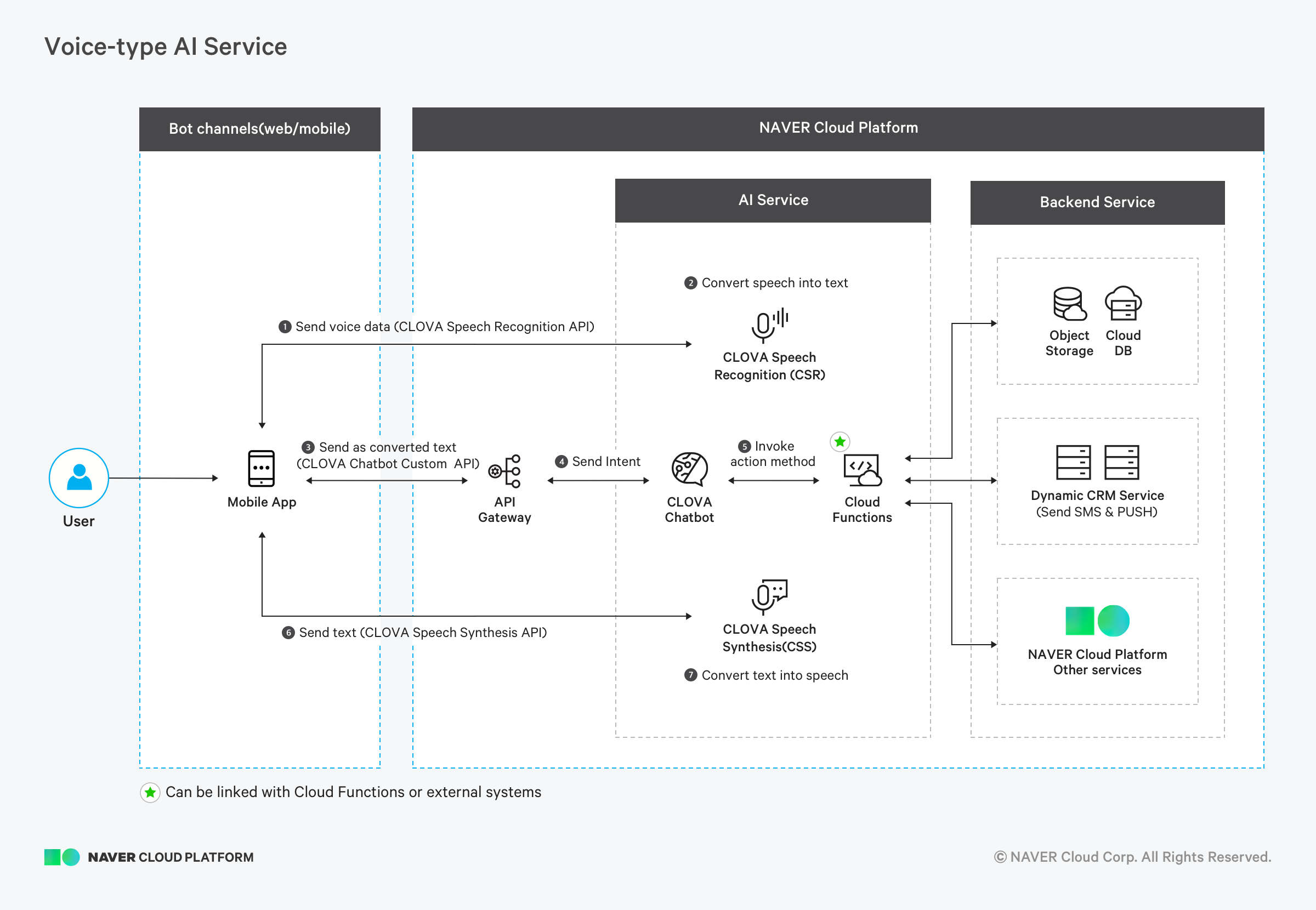 Use Cases and Effect
Powerful Dialogue Model Engine

The dialogue modeling engine, equipped with Naver's know-how, creates natural replies for conversations based on an enhanced dialogue model that uses natural language processing technology and a machine learning based algorithm specialized for Korean.
Link with Various Channels

Utterances from various channels are handled in real time to provide linked features to messenger platforms, such as LINE, Tok-Tok, KakaoTalk, and Facebook. Linking with the legacy systems is easy since REST API-based custom end-points can be extended for easy linking to web pages and mobile applications.
Easy Chatbot Builder

In order to conduct chatbot learning, the learning data must be prepared in advance. Using the CLOVA Chatbot builder, a tool for creating chatbots, anyone can easily enter data sets for questions and answers required for dialogue learning. Let the chatbot learn the dialogue and test the utterances to check chatbot operation.
Multilingual Support (English/Chinese/Japanese)

The chatbot engine, which is embedded with Naver's expertise, is applied with the natural language processing technology and machine learning based algorithm. Based on these technologies, we are also providing a multilingual chatbot service which supports English, Chinese, and Japanese in addition to Korean.
Functional Dialogue Components

You can link the legacy system with the chatbot service to reorganize the replies before providing it, create a flow to follow a specific scenario, or model a dialogue to fill up the slot. You can also call the external API via the action method and include it in the reply. Or, you can provide multi-choice or short answer questions. The task is used for executing complicated orders or logic. (You can execute an action by filling up all empty slots, such as ordering pizza or returning goods.)