Digital Asset Management
Business system for creating, storing and retrieving digital assets and managing usage rights
About Architecture
A digital asset refers to documents/photo images prepared at a company, videos for a company advertisement, animations, podcasts, or other digital files. Digital Asset Management (DAM) is a business process to create, store and search these digital assets, and to manage digital rights and permissions. Therefore, a DAM system includes physical conversions and editing features for multimedia assets. It has specialized service elements such as metadata management of physical files or search of information relevant to the contents. The cloud environment provides the features to easily distribute files like online company advertisement videos as well as to easily install the infrastructures for the Digital Asset Management. Using the CDN edge connected all over home and abroad, you can provide a better file download feature to the users. With Digital Asset Management, the required storage keeps increasing as time passes by. In a cloud environment, you can use an infinitely expandable storage and can manage the file lifetime using archiving.
---
Architecture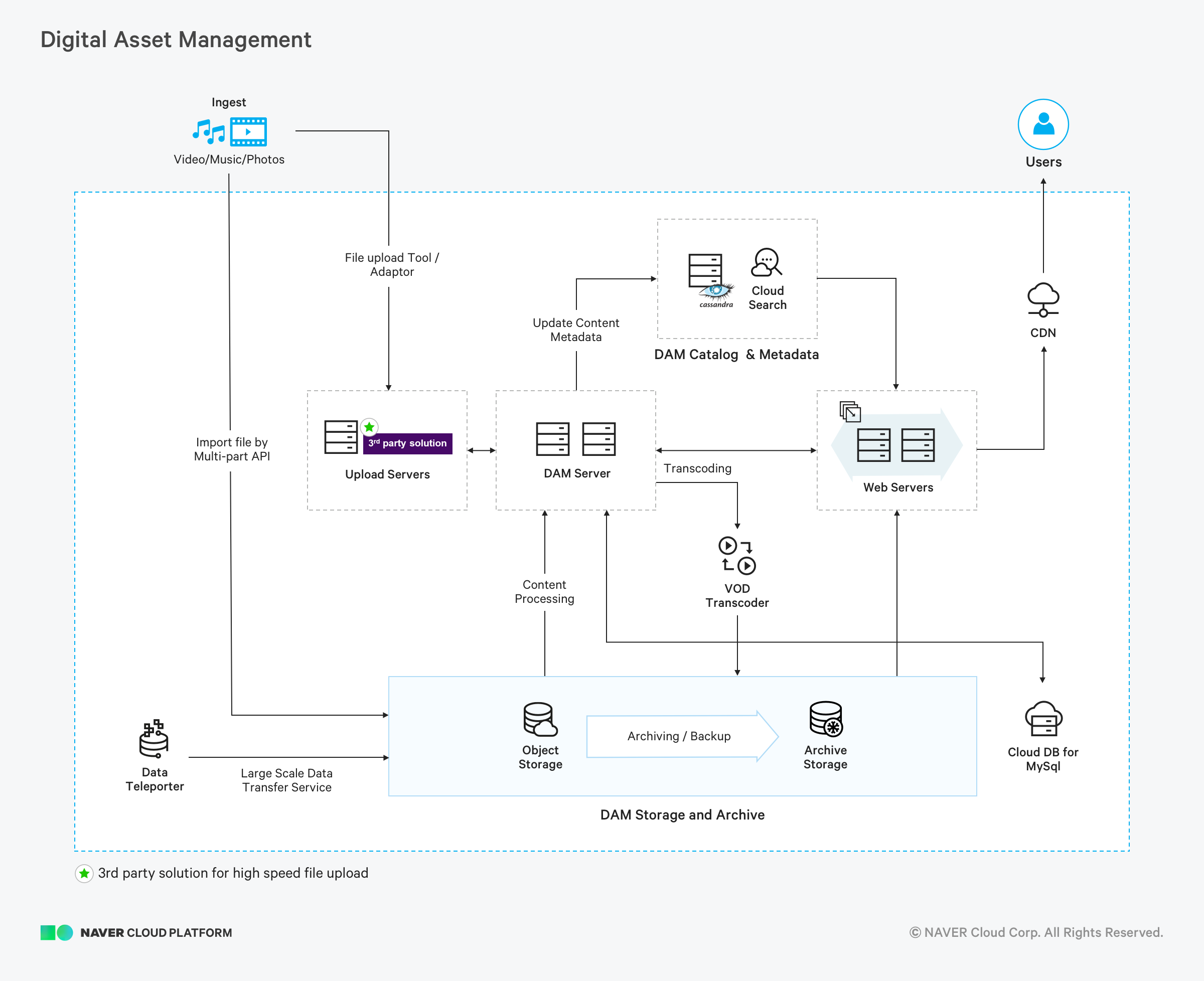 Use Cases and Effect
Provides Cost Effective Storage

With a cloud-based DAM system, you can just pay for the amount of the actual usage without having to purchase the required hardware or software in advance. If you use Object Storage in proportion to the increased amount of video, image or audio contents, infinite scalability and availability are guaranteed.
Metadata Management and Advanced Search Features

You can use a No-SQL server for detailed metadata file management of the stored media assets, and it is better to add a search server like Elasticsearch to use the appropriate file when needed. Using a product like Cloud Search, you don't need to manage servers separately, and you can conveniently use the built-in morphological analysis processing of the Korean language. 
Lifecycle Management of Digital Files

Although the value of media asset files decreases as time passes by since they are used less frequently, the management cost increases as the stored volume keeps increasing. Therefore, it is effective to reduce the cost while maintaining availability and convenient access by automatically moving to the archive storage which costs less if a certain amount of time passes by.
Expandable DAM Platform

In a cloud environment, you can expand flexibly in all parts depending on the increase of services including the server in charge of workload, video transcoder for file conversion, storage to save data/files, search service, and even the endpoint of the user interface.
Effective Media Asset Distribution Feature

You can use the CDN service of Naver's cloud to distribute media files. It allows you to manage source files easily by linking with Object Storage, and improves user satisfaction with a fast distribution from the edge which is closest to the user's location.