Hybrid basic connection
Hybrid architecture using IPSec-VPN or Cloud Connect
About Architecture
Hybrid cloud means to integrate so that the IT resources of the legacy system or the IT infrastructures of the data center and the various resources of the public cloud can be used at the same time. When an organization which already owns the on-premise technology and system tries to transform into a cloud environment, sequential and gradual transfer is possible by operating a hybrid architecture. In addition, you can experience the native cloud feature in the process of integrating the application features and the management features like network, database, or monitoring. You can also get the on-demand scalability of cloud, the advantage of efficient costs, and the solution for backup/disaster recovery. NAVER CLOUD PLATFORM provides various technologies and experiences to make such hybrid operation easy to help you feel safe and comfortable in transforming into a cloud environment.
---
Architecture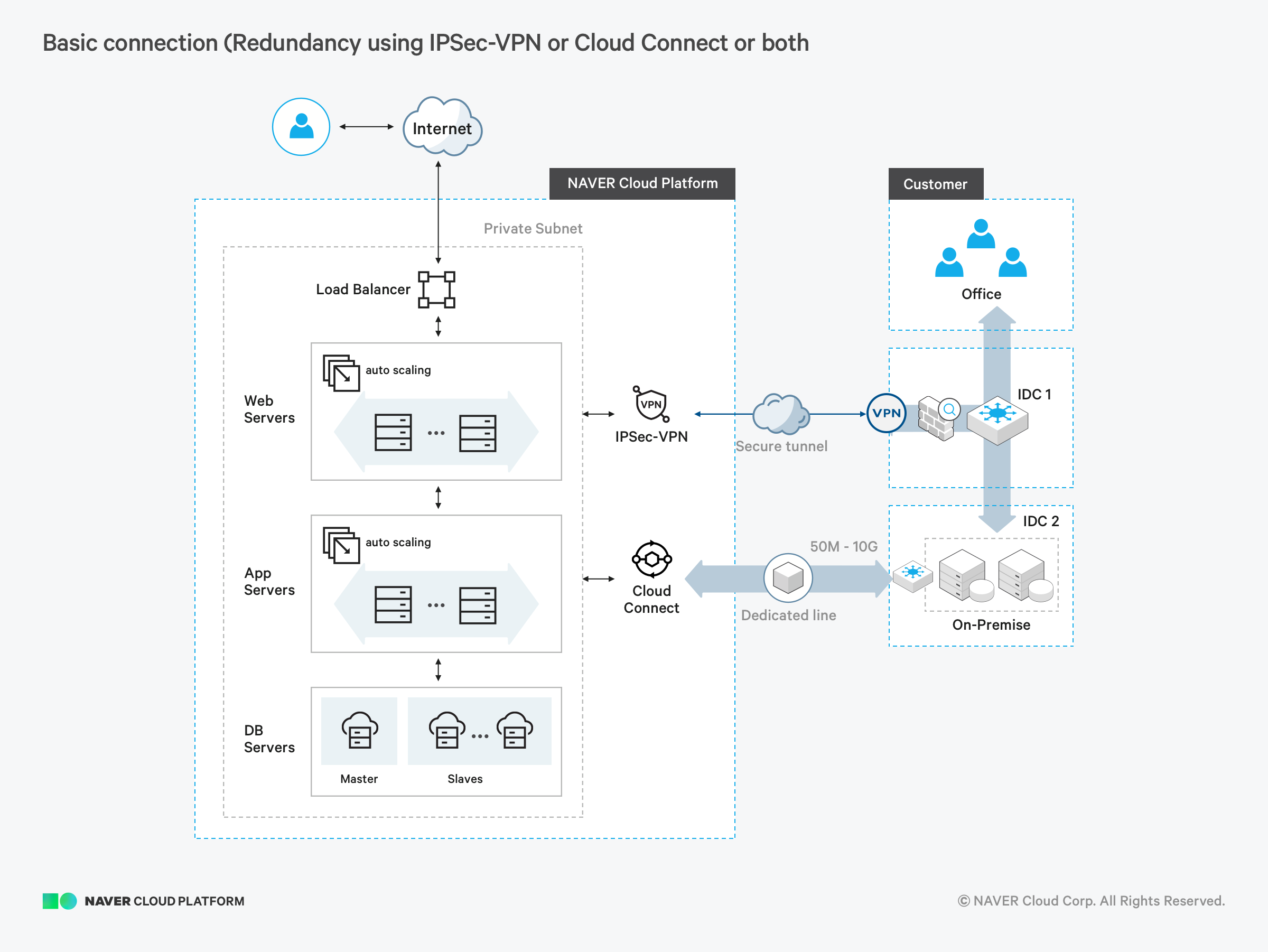 Use Cases and Effect
Inducement of Natural Change

It takes time and experience to migrate the currently operating IT system to the cloud. If too much change is required to gain the advantages of the public cloud, this may act as an obstacle for introducing cloud technology. Using Naver Cloud's technology and experience, you can transfer to the cloud naturally by minimizing changes on the existing on-premise IT system which is implemented.
Utilization as Cloud Bursting

The work of building/extending service infrastructure to prepare for the sudden increase in the workload as an event is complicated and very expensive. If you make resources that need to scale-out in the cloud through a hybrid environment, you can quickly respond to the business demand in a more cost-effective way.
Select According to Workload

Although a public cloud provides various products and features, it cannot satisfy all cases. Workloads with a known optimum configuration can select a private cloud or a legacy system and workloads with an unpredictable capacity can select a public cloud so that the selection of infrastructure according to workload type is possible.
Utilization as a Solution for Backup and Recovery

The NAVER CLOUD PLATFORM provides various storage and database services for the safe and stable storage of data by connecting with on-premise applications. If you use a service like Object Storage, you can actualize convenient access/management, stability, and availability to utilize as a DR center to prepare for offsite and disaster situations.
Utilization of Advanced Cloud Technology

With hybrid connections, you can extend the features and the performance of the legacy system using cutting edge features like unrestricted server resources, infinitely scalable storage, various applications, and AI.