Video On Demand (VOD)
Architecture for Video On Demand (VOD)
About Architecture
The VOD service is an on-demand video service which allows users to watch videos at a desired time via the internet. To achieve a VOD multimedia service of high quality, a large file management feature, video/audio file transcoding, real-time VOD distribution, and network efficiency must be secured. NAVER CLOUD PLATFORM provides products with the features and performances required for each stage of file upload, conversion and distribution for the VOD service. You can store an unlimited amount of source files into object storage with high availability and scalability, and the transcoding in a high-performance computing power is reasonable because the cost is charged based only on the amount used. While the converted result of the file can be sent directly to the user after being stored in Object Storage, you can send it to users around the world without network latency using the content acceleration feature of the CDN.
---
Architecture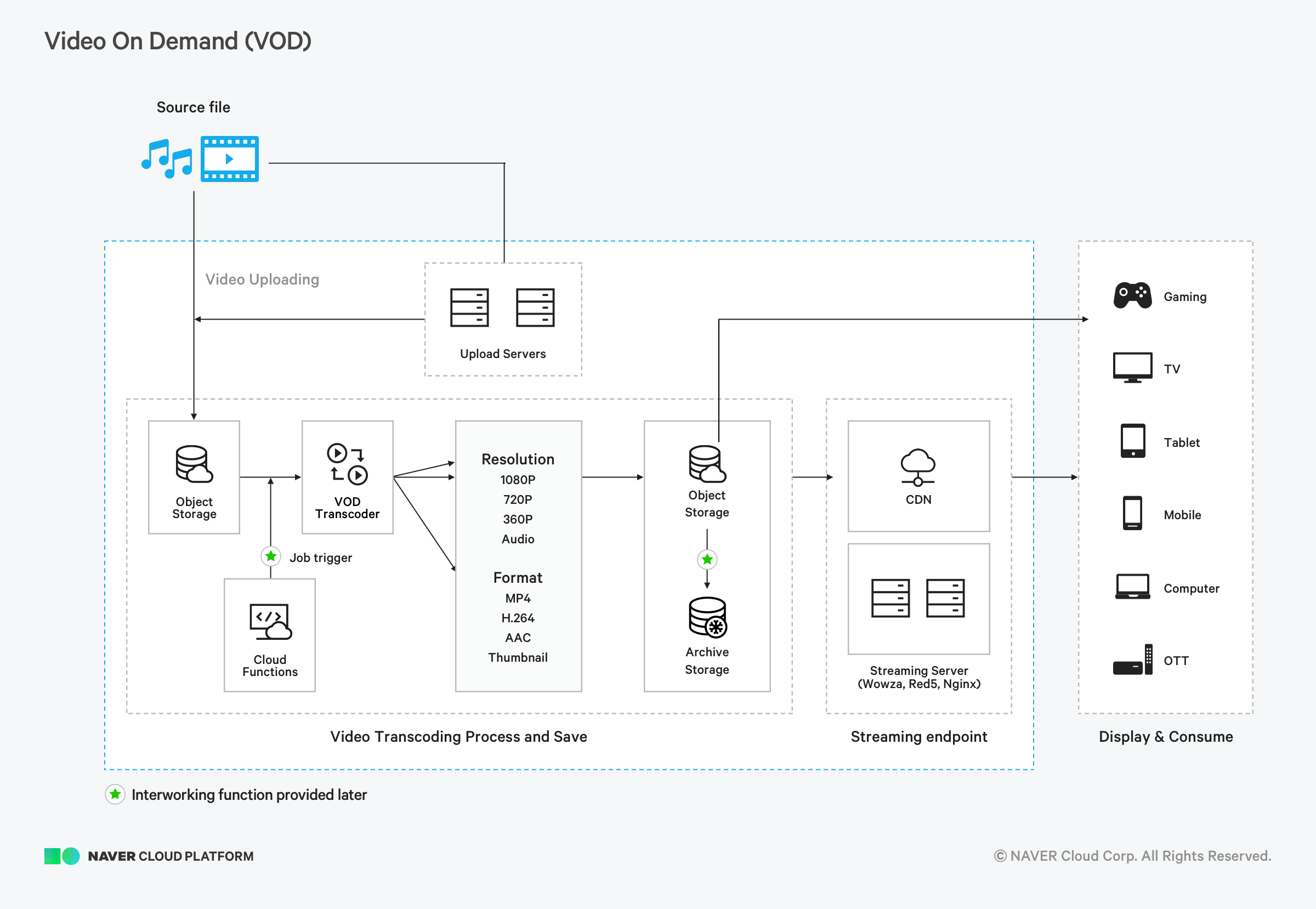 Use Cases and Effect
Flexible Infrastructure for Variability

In a cloud environment, scalable use of resources is possible without worrying about the variability of the accommodation of the media industry, which is difficult to predict, and idle resources. Server resources for uploading source files, metadata management, and streaming are scalable according to the growth of a service.
Fast Performance and Unlimited Capacity

With Object Storage, you can store and use unlimited data safely and conveniently. It is convenient to use due to it being directly connected to the various products like a VOD Transcoder and CDN as well as being able to manage using a Restful API through the web.
Convenience of the VOD Transcoder

Using VOD Transcoder, you can convert videos easily in a web-based console without any additional license cost, and also create a job through the OPEN API. Also, high quality videos for various types of devices such as mobile devices, TVs, or advertisement videos, can be displayed by supporting various input/output formats.
Integrated Platform Building with Cloud Products

The results of performing the VOD Transcoder operation are stored in Object Storage, and LIVE or VOD integrated service can be implemented by combining with the Live Transcoder for live broadcasts on the internet and a CDN that can handle a high volume traffic.
Serverless Architecture

Using the cloud function, you can configure a serverless architecture since you can execute the job for file conversion even without creating a separate VM for the VOD system and configuring a management system.