Introduction to NAVER Healthcare Cloud
NAVER Healthcare Cloud provides reliable services based on
domestic and overseas security certifications,including ISMS, CSA-STAR, and ISO 27799.
It enables you to quickly and easily build and manage IT infrastructure optimized for medical institutions and healthcare services.

Watch the introduction video
Can I store my medical data in the cloud?
Since August 6, 2016, it has become possible to store medical data that meets the security requirement in a secure cloud in accordance with the [Medical Law] Standard for Facilities and Equipment Required for the Management and Preservation of Electronic Medical Records ''(Notice of Ministry of Health and Welfare. 2016-140). NAVER Healthcare Cloud complies with both medical law and privacy law and meets all the detailed standards for facilities and equipment.
[Key Content of Medical Law Enforcement Rules and Notices]
(Enforcement Rule) Article 16, Paragraph
(Notice) Detailed Standards for Facilities and Equipment
Category
Content of Provision
Common measures
Additional measures for external storage
No. 1 & 2
- Electronic medical record creation and electronic signature
- Creation and storage of electronic medical record and digital signature verification
- Electronic medical record history management
No. 3
- Backup storage equipment
- Periodic backup
- Storage area equipped with lock
- Non-disruptive backup and emergency recovery
- Prevention of backup data forgery and modulation
- Separate operation of backup equipment
No. 4 & 5
- Network and electronic medical record system security
- Access control and authority restriction
- Encryption of personal information
- Storage of access records
- Security program installation, etc.
- Network redundancy
- Use of certified protection products
- Ensure data integrity
- Access control system configuration
- Set up data management plan, etc.
No. 6
- Physical access control facilities and equipment
- Arrangement of storage facilities
- Installation of locks, etc.
- Establish access control area
- Access control and monitoring
- Limit the equipment location to domestic
No. 7
- Facilities and equipment required for external storage
- Real-time monitoring
- Operation of spare equipment against failure
- CCTV installation and operation
- Operation of intrusion detection equipment
- Installation of disaster prevention facilities
What are the benefits of NAVER Healthcare Cloud?
Architecture of NAVER Healthcare Cloud
· It minimizes mutual interference by separating general private service servers from dedicated medical service servers.
· You can configure a hybrid cloud with IPsec VPN or dedicated line.
· It has a strong security system that can detect and defend external attacks through the network, and detect potential vulnerabilities on the service.
· You can respond to the 4th Industrial Revolution by utilizing Big Data analysis and machine learning platform.
· You can select storage such as NAS or Object Storage depending on the nature of the service or the purpose of the data.
Disaster Recover Plan
As it is operated in the form of multi-zone, it can maintain stable services even when natural disasters (e.g. floods and earthquakes) occur in the area where the data center is located.
In addition, you can securely store medical data which is difficult to store abroad by distributing data to physically distant NAVER Cloud Data Center.
Providing Step-by-step Solution Using Big Data
You can provide new healthcare services or predict various activities by analyzing large amounts of data.
It ultimately helps you improve healthcare service level by analyzing information that doctors and patients need.
Creation and Collection of Data

The method of collection varies depending on the type of created data, and the method to create and collect data depending on each characteristic is required. We provide the solutions to collect transfer and streaming data on data, logs and existing data created from the applications.
Server
Cloud loT
Cloud Insight
Cloud Connect
Data Teleporter
Storage of Data

In order to manage the collected data, various types of repositories are required depending on the data type. We provide various solutions to store relation type, documents, key-values, in-memory cache, files/objects, and streaming data.
CUBRID
MariaDB
Block Storage
Object Storage
NAS
Ncloud Simple RabbitMQ
Analysis and Handling of Data

You need various types of tools that are suitable for the method of analyzing and handling data. We provide the verified solutions for interactive /batch/streaming analysis/processing and machine learning.
CLOVA Speech Recognition(CSR)
CLOVA Face Recognition(CFR)
CLOVA Speech Synthesis(CSS)
CLOVA Chatbot
Ncloud TensorFlow Server
Ncloud TensorFlow Cluster
Verification and Visualization of Data

You need appropriate tools depending on the characteristics in order to verify and visualize the result of analyzing and processing data. Using analyzed and processed data, we provide the tools for analyzing and visualizing data as well as using them for the users' applications.

Use Case of NAVER Healthcare Cloud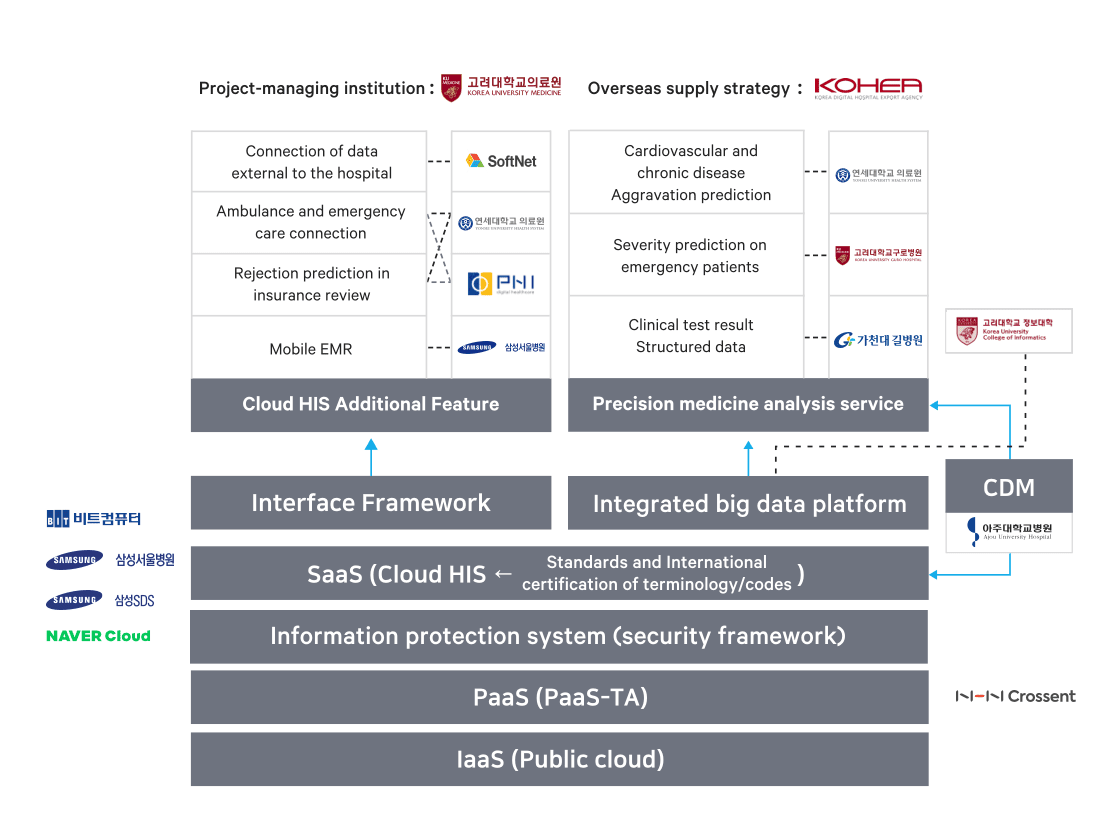 P-HIS (Precision medicine Hospital Information System)

P-HIS (Precision medicine Hospital Information System) is a cloud-based next-generation hospital information system that enables multiple hospitals to use together to realize digital healthcare and precision medical care utilizing cloud and AI. It creates a medical environment that can concentrate on the communication between patients and medical staff by storing medical information, genetic information and lifestyle information, etc. of patients securely in the cloud with enhanced security, and streamlining the medical procedures such as medical treatment, medical support and administration, etc. of medical institutions. It enables you to realize the precision healthcare services customized for patients using AI by using standardized medical terminology and codes and building consistent and high-quality medical big data.

Dr. Answer

Dr. Answer is a Korean type of precision medical service that develops a total of AI 21 medical software targeting a total of 8 diseases, including breast cancer, colon cancer, prostate cancer, cardio-cerebrovascular disease, heart disease, epilepsy, dementia, and rare and refractory genetic diseases in children. It is the biggest consortium in Korea with 26 hospitals and 22 ICT / SW companies based on the NAVER CLOUD PLATFORM that is certified to ISO-27799, the international standard for medical information protection.